Image Page on Thailand, Malaysia, and Singapore
Include pictures, and at least one panorama image, and a webcam image from two different times.
Outline
Landscapes
Cities
Downtown Bangkok view from

Benchakiti

Park

Aerial view of Kuala Lumpur

Malacca City on the Melaka River

Singapore skyline at night
Landmarks
Images of People
Kayan

Woman in Northern Thailand

Mourning Thai People in Bangkok

The Beautiful Diversity of the Malaysian Population

Aging Singaporean Men Playing Board Games
Images from the book
1 Landscapes
Agricultural land outside of Chiang Mai, Thailand.
The mountainous northwest region of Thailand is home to the city of Chiang Mai. The area surrounding Chiang Mai is home to tea plantations and rice paddies. Vivid white rice paddies break up the lush green from the surrounding thick vegetation as if signifying their importance. Rice is not only a life sustaining crop for the Thai people, but a part of their culture and belief systems. The Thai people believe in the Rice Goddess, who is tied to their life cycle story, and have annual celebrations at harvest time. https://i2.wp.com/www.ourhoneymoondestinations.com/wp-content/uploads/2017/05/thailand-chiangmai-rice-paddy-fields1.jpg?resize=900%2C345
Thi

Lo

Su

Waterfall
The

Tak

Province is located along Thailand's western border and in the southern part of the

Tak

Province lies the

Umphang

district. This region of Thailand is mountainous, remote, laden with wildlife sanctuaries and national parks, and home to the largest waterfall in Thailand,

Thi

Lo

Su

. This majestic waterfall is over 650 feet tall, 1,300 feet wide, and is surrounded by dense forest. There are multiple ways to get to

Thi

Lo

Su

, but the most scenic involves white water rafting on the Klong River and then hiking the rest of the way as you can see both

Thi

Lor

Jor

and Sai Rung Waterfalls feeding into the Klong.

 

https://urlaub-in-thailand.com/wp-content/uploads/2016/04/Tee-Lor-Sue-waterfall.jpg
Tioman
Island Coastline
Tioman

Island is

off of

the eastern coast of Malaysia in the South China Sea. The island is a nature preserve with lush rainforests, while being surrounded by white sand beaches and superior dive sites. The waters surrounding the island are filled with coral reefs, shipwrecks, and a variety of sea creatures. A major attraction for ecotourists is the

Juara

Turtle Project which is a research program and sea turtle hatchery. https://i.dailymail.co.uk/i/pix/2010/12/05/article-1335856-0C55C896000005DC-992_634x419.jpg
Serene Garden
The Serene Garden is a new addition to the Gardens by the Bay in Singapore. A primary focus in Singapore is to make it the greenest city on earth; this has led to an abundance of urban landscaping and the creation of conventional and unconventional greenspaces, with the Gardens by the Bay falling in both categories. The Serene Garden was influenced by Japanese gardens and is minimalistic to help people commune more with nature. Even though the landscape architecture is minimalistic, the size of the garden is not coming in at 2 hectares.

 

https://www.gardensbythebay.com.sg/content/dam/gbb/the-gardens/serene-garden/serene-garden-carousel1-1670x940.jpg
2 Cities
Downtown Bangkok view from Benchakiti Park
<![if !vml]>

<![endif]> 
The city of Bangkok is home to over 10 million people in an area sized at 1,570 square kilometers (975 square miles). There

is

no escaping tall, modern buildings in downtown Bangkok, even if when you are on the outskirts of the city center. However, even with high population and building density, the city has many parks, ponds, and sculpture gardens.

Benchakiti

Park at dusk captures the lights of the city dancing on the water signaling the night is just beginning. http://www.allphotobangkok.com/wp-content/uploads/2018/04/Benchakiti-Park-Bangkok-cityview-landscape-night-1_small.jpg
Aerial view of Kuala Lumpur
<![if !vml]>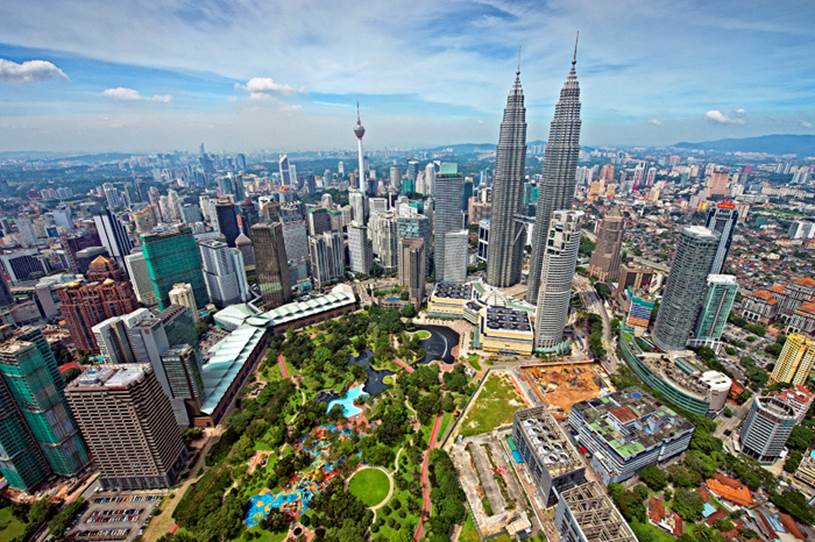 <![endif]>
Kuala Lumpur is the capital of Malaysia with a population over 1.7 million people in the city and approximately 7.25 million people in the greater Kuala Lumpur region. The city sits within 243 square kilometers (94 square miles) making for high density living and building. To break up the crowded city center, greenspaces have been created to give residents a break from the hubbub of city life. https://farm9.staticflickr.com/8198/8186312553_133f1e63f9_b.jpg
Malacca City on the Melaka River
The city of Malacca, Malaysia is a vibrant community situated along the Melaka River, a onetime thoroughfare for trade ships. Now Malacca has a fun and funky vibe with the brightly painted buildings lining the Melaka River. To truly dive into the culture, heading to the  Jonker Street Night Market will make a wide variety of food, shops, entertainment, and people watching available to those in attendance.  https://farm8.staticflickr.com/7298/10649127445_63558d6e40_b.jpg
Singapore skyline at night
<![if !vml]>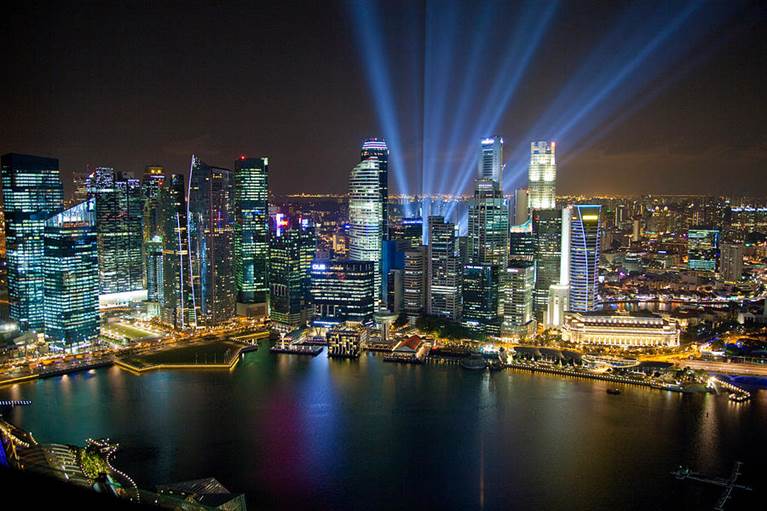 <![endif]>
Singapore is a small country with a large population and an even larger, bolder aesthetic. Singapore is on the front lines of architectural ingenuity with buildings such as the ArtScience Museum, PARKROYAL on Pickering, and the Supertree Grove Park. However, with skyscrapers and a large population comes a substantial amount of light pollution. While the skyline is lit up with the activities of Singapore's night life, the dark never really descends among the intense fluorescence of the downtown. https://images.fineartamerica.com/images-medium-large-5/2-singapore-downtown-overview-at-night-jaynes-gallery.jpg
3 Landmarks
Wat

Pha

Lat, Chiang Mai
In Thai "Wat

Pha

Lat" means "Monastery at the Sloping Rock." This Buddhist temple and monk's residence got its name as worshipers made the trek to the temple Doi Suthep. Wat

Pha

Lat is located approximately 18km northwest of Chiang Mai. This lush and serene landmark is nestled in the forest near a waterfall. The mystical artwork that adorns the buildings adds to Wat

Pha

Lat's understated beauty. https://media-cdn.tripadvisor.com/media/photo-s/06/be/d4/35/caption.jpg
The Floating Mosque,

Tanjung

Bungah

, Penang
Tanjung

Bungah

translates to "Flower Cape" and is a coastal town north of Penang. With water comes water sports, fishing, tourists, and a floating mosque. The mosque is a new landmark at the young age of 15, built to replace an old mosque that had been damaged by time and tsunamis, but it has quickly turned into a major tourist attraction. The minaret provides an unadulterated 360-degree view of the South China Sea and the prayer room is large enough to hold 1,500 worshippers. If you are a visitor and wish to enter the mosque you must have clearance from the mosque officials and are expected to be dressed appropriately; for men that means wearing full pants with either a long or short sleeve shirt and women must have hair and arms covered and from the knees up. https://www.woguidesadventure.com/wp-content/uploads/2018/04/penang-van-rental-penang-floating-mosque-6-300x251.jpg
Mount

Api

,

Gunung

Mulu

National Park, Malaysia
Mount

Api

is located in

east Malaysia on the island of Borneo. What sets Mount

Api

apart from its neighboring mountains are the limestone karst formations that are commonly called "Pinnacles." Karsts are formed due to subterranean drainage systems that lead to poor surface water draining. Over time the soft rocks, like limestone, are eroded, and formations like the Pinnacles are created. Mount

Api

is not just known for the Pinnacles though as it is a botanical hotbed for the pitcher plant as it is home to 8 known species. https://upload.wikimedia.org/wikipedia/commons/thumb/2/27/Pinnacles_at_Mulu_2.jpg/1200px-Pinnacles_at_Mulu_2.jpg
Buddha Tooth Relic Temple & Museum, Singapore
4 Images of People
Kayan
Woman in Northern Thailand
The

Kayan

people are now an ethnic group that reside on the northern Thai border and are

actually refugees

that have fled Myanmar over 20 years ago. This ethnic group primarily reside in tourist villages and have access to minimal amenities such as electricity, infrastructure, health care, and education. To the

Kayan

peoples elongated necks

are considered to be

desirable. To achieve such looks girls start wearing neck rings at a young age and add more as they age. Due to the heavy nature of the neck rings, which can add up to a weight of 25 pounds, undue pressure is placed on the neck and shoulders. Despite this fact, the practice does not actually elongate the neck, even after decades of wear. https://a35iz1bymc-flywheel.netdna-ssl.com/wp-content/uploads/2014/02/longneck-women.jpg
Mourning Thai People in Bangkok
After presiding over Thailand for 70 years, King Bhumibol Adulyadej, died in 2016 at the age of 88. He was considered a demigod by the Thai people and his death sparked mass mourning. The Thai people in the photo in the photo are mourning outside of Siriraj Hospital in Bangkok where King Bhumibol passed away. The grief and sadness are palpable as the huddled people unabashedly display their emotional response to his death. Both men and women alike shared in the grieving and outward display of emotion showing the world that a leader who transcends the office and power can spark a deep-seated love from their people.
https://mondrian.mashable.com/uploads%252Fcard%252Fimage%252F245964%252Fh_53066142.jpg%252Ffit-in__1200x9600.jpg?signature=QsFevbgG5Nk6tOoXIrnNdHDAoPY=&source=https%3A%2F%2Fblueprint-api-production.s3.amazonaws.com
The Beautiful Diversity of the Malaysian Population
The nation of Malaysia is ethnically and religiously diverse. This picture shows people identifying as various ethnicities such as Indian, Chinese, and native Malaysian. Since the ratification of the country's constitution the multicultural populace's general welfare has been safeguarded until the very recent past. However, with power hungry politicians of varying ethnicities comes a struggle for power. The Malay people in the photo are displaying that a unified people are stronger than divisive policies. The comfortable closeness displayed radiates support and acceptance of each other.
https://s3media.freemalaysiatoday.com/wp-content/uploads/2018/11/Malaysian-Malaysia-1.jpg
Aging Singaporean Men Playing Board Games
The casual nature of this photograph conveys the everyday activity for aging Singaporean men. Enjoying the company of others while engaging in a lowkey social activity shows a different aspect of the more widely accepted idea of Singaporean society. The activity being carried out be these men is devoid of technology which has infiltrated almost all aspects of Singaporean life. The photo is confirmation that not everyone needs technology to connect with others or to be entertained.
https://encrypted-tbn0.gstatic.com/images?q=tbn:ANd9GcRd3aYLSBXQnKRQ7E_N-zx4tLkL7puDSu93ycsgxbPQsY_gy5hFtA
5 Images from the Book
Gaang kee-o wahn, or Thai Green Curry
"Known outside of Thailand as green curry, this intersection of a piquant, herbal spice paste and rich coconut milk is single-handedly emblematic of Thai cuisine's unique flavors and ingredients" (Lonely Planet, 2018, p. 668). https://latashaskitchen.com/wp-content/uploads/2016/04/shutterstock_291214232_Thai-Green-Chicken-Curry_500k.jpg
Mom and baby Orangutan, Malaysian Borneo
"The other Malaysia, the state of Sabah (p435) and Sarawak (p453) share the island of Borneo with Brunei and Indonesia's Kalimantan. Here, on cruises along rainforest-cloaked rivers, you can encounter some of Southeast Asia's wildest inhabitants: chattering gibbons, ponderous orangutans and the myriad indigenous cultures who share their jungle home. But it's not all rivers and rainforest. There are the cosmopolitan cities of Kuching (Sarawak) and Kota Kinabalu (Sabah), and dive boats explore some of Southeast Asia's best stocked coral reefs" (Lonely Planet, 2018, p. 16). https://destinationsmagazine.com/wp-content/uploads/2017/05/Borneo-Orang-Utans-RayMuzyka-2456x1000.jpg
Submitted by your Kate Lade updated on 4/28/2019.